Mission
Law Enforcement Exploring is a community service, career-oriented program designed to educate young men and women, ages 14-20, about Law Enforcement.

Exploring reaches out to New York City's young adults in every community to help build up relations between the community and New York City Police Department. Explorers are taught the importance of higher education, self discipline, and respect for authority while they actively participate in community service projects and other Exploring events.

Contact: 718-834-8824
TO APPLY TO BECOME A LAW ENFORCEMENT EXPLORER CLICK HERE
Click here for current explorers to take our survey
Explorers can now click here to submit comments for our new Blog
To learn more about the Learn for Life Program, click the image below.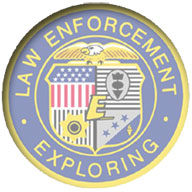 Methods
Exploring relies on three primary methods to attain its goals: youth leadership, positive adult role models, and the five Exploring Experience Areas.

Youth Leadership: The Explorers elect their own officers and are promoted within a rank structure. Explorers will plan and execute most of their activities. This process will encourage Explorers to see how their self-discipline can either help or impair the group.

Positive Adult Role Models: The positive interaction of Explorers and Law Enforcement Officers help young adults see officers as real people, and affords opportunities to build positive relationships between the New York City Police Department and the communities of our city.

Five Experience Areas: Exploring feels that an appreciation and commitment to the following areas are crucial to the development of all young people: Life Skills, Service Learning, Character Education, Leadership Experience, and Career.
Competitions
Annually, nearly 2,500 young men and women from all 50 states take part in the week-long Law Enforcement & Fire/EMS Explorers Conference to learn law enforcement and fire/EMS skills and tips from some of the highest ranking law enforcement and fire/EMS officials in the country.

For young men and women aged 14-20 who are interested in careers in the field of law enforcement and fire/EMS, Exploring offers experience and competition-based learning with lots of fun, educational, hands-on activities that promote personal growth, teamwork and development of adolescent youth.